Rover Invite a Friend Program
Give your friends $20 to use on Rover. When they book a stay or walk, you'll earn a $20 credit towards your next booking—it's a win-win!
How to refer a friend:
1. When logged into your Rover account, select the Give $20, Get $20 button at the top of any page.

2. Choose your referral method: email, Facebook, Twitter, or copy your direct link.
Note: Friends must sign up through your referral link to receive credit.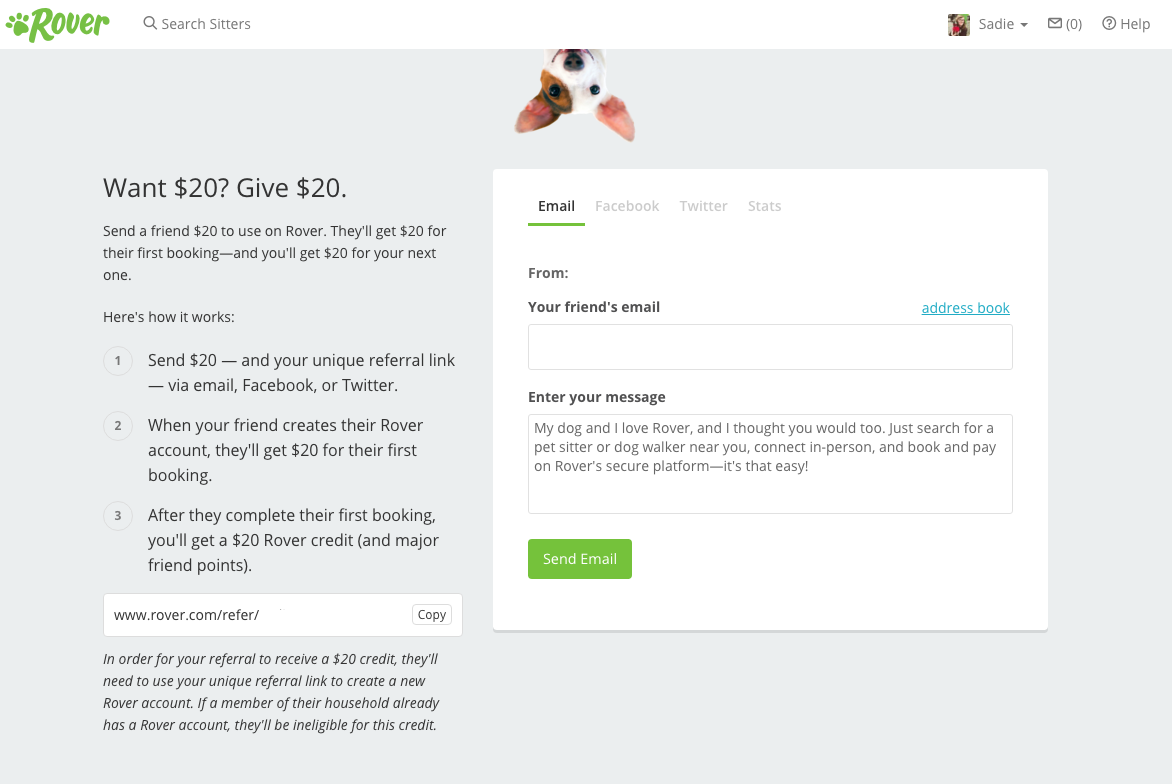 3. Select Send Email or Share. You're all set!
You can also access this pop-up window while on your dashboard. Simply select the Invite a Friend button located in the Refer a friend, get $20 box.

About Rover
Whether you need in-home dog boarding, pet sitting, dog walking, or day care, Rover connects pet parents with dog people who'll treat their pets like family.
Rover sitters are your rainy-day-dog-walkers. Your every-day-belly-rubbers. Your tug-of-war players. Your middle-of-the-night-pee-breakers. Because we get it—your dog is family. And when you can't be there, you can trust us keep your dog happy, healthy, and sweet as ever.
But it's not just about dog love. Rover is also an award-winning technology business committed to making pet care safe, easy, and affordable so that everyone can experience the unconditional love of a dog.
So for the frequent butt-sniffers, the sock-stealers, the table-side beggars and the clicker-trained champions: We're your people.
And for the world travelers, the long-day-at-work-ers, the business-trip jetsetters, the swing-shift survivors: We're your people, too.
Whatever you and your dog are into, we're into it, too. And we've got your back. Anytime. Anywhere.
5-Star Sitters in Your Neighborhood
Rover accepts less than 20% of potential sitters—because your dog deserves the best. Rover offers:
Background checks
Premium insurance
Reservation guarantee
24/7 support
Secure online payments
Ongoing sitter education
Photo updates
Verified reviews
Trust and safety experts
Good dogs. Good people.
Whether you need a dog walker for the day or dog boarding for a month, there's a Rover sitter who's the perfect match for you, your pets, and your lifestyle. Rover sitters offer: